Why BMW Group has been successful?
Published:
27 February 2016
Remember! This is just a sample.
You can get your custom paper by one of our expert writers.
Get custom essay
73 writers online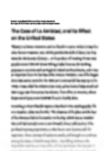 BMW Group is a famous auto company all over world, stands for "Bayerische Motoren Werhe AG" in English "Bavarian Motor Works" who is also the leader in a luxury car manufacturer and seller in the world. BMW Group was founded in 1916 and headquartered in Munich, Bavaria, Germany. It consists of an initial aircraft engine manufacturing plant to become enterprise groups dominated by limousine today, and produce the world-renowned aircraft engines, SUVs and motorcycles. It also owns and produces Mini cars, and is the parent company of Rolls-Royce Motor Cars. BMW produces motorcycles under BMW Motorrad. In 2010, the BMW group produced 1,481,253 automobiles across all its brands. BMW is part of the "German Big 3" luxury automakers, along with Audi and Mercedes-Benz, which are the three best-selling luxury automakers in the world. (http://www.wikipedia.com)
BMW Group employs more than 1 million employees in more than 40 countries. BMW Group has worldwide subsidiaries and manufacturing plants in Germany, the UK, the USA, Egypt, China, South Africa, Brazil, South Africa etc. (http://www.bmwgroup.com)
The marketing strategy of BMW Group is based on having a powerful brand core value as" The Ultimate Driving Machine" and "Sheer Driving Pleasure". Therefore, BMW always strive to improve car handling, making driving as a pleasure, an enjoyment. There is no doubt that BMW's success is inseparable from the perfect marketing mix that conforms to the brand positing developed from core value. Marketing mix is also called 4 P's of marketing i.e. Product, Price, Promotion and Place. Furthermore, marketing mix will be used to further research that marketing strategy of BMW.
As the first one is product. The current BMW cars have a 1, 3, 5, 6, 7, I, M, X, Z series. Among them, 1 Series is a compact car, 3 Series is a mid-sized car, 5 Series is a middle-large size car, 6 Series is a two-door coupe, 7 Series is a luxury car, I Series is BMW concept car not mass-produced, M Series is the BMW high-performance version, X series is BMW specific SUV cars, and Z series is BMW's entry-level sports car. BMW's appearance is also vividly reflecting the brand's core values​​ as chic and unrestrained. It has a stark contrast with many solemn luxury cars. Under the leadership of the overall brand core value, each series of BMW cars can have individual differences to adapt to different consumer groups. For example, the BMW 3 Series positioning is young and sport. The old 3 Series was a former senior small car, and the new 3 Series has three car body changes: sedan, coupé and convertible. They have a spacious and comfortable interior space and seven kinds of engine. BMW 3 Series become the new favorite of young costumers, as it combines strength, elegance and fun. Moreover, BMW 7 Series target luxury and business. The 7 Series belongs to the level of BMW large car at all no matter from appearance or internal. It was became the BMW's symbol because of its good quality, comfort and innovative design. Except for basic car body, there is extended model for customer to choose. The BMW 7 Series represents outstanding engineering design, cutting-edge technological innovation, unmatched shocking and pure driving pleasure, so it is the best interpretation of the BMW brand core value. Therefore, the 7 Series cars also attracted a lot of successful businessmen.
Secondly, it is the price. BMW Group is in pursuit of the high-priced strategy, and put higher price than other brands. BMW Group think the reason of high-priced strategy is that high price means BMW's high quality, also means BMW's brand status and reputation. The high price said the BMW brand compared with competitive brands has specificity and uniqueness, and the price is more shows the owner's social achievements. In a word, BMW's high-priced strategy is based on higher quality products, perfect service and BMW's core value. The pricing strategy that the BMW Group adopts is based on several key trends. One most important trend of BMW is labeled as "premium-tization". Premium-tization trend of BMW causes polarization of markets. This trend triggers the consumers to demand and pay much higher prices for the perceived quality. (http://www.bmwgroup.com)
What is more, the third one is place and distribution. The website of BMW Group regarding Placement and Distribution say that "BMW have 156 dealers in the UK who are franchised to sell BMW cars, additionally 148 dealers are franchised to sell MINI Cooper. Worldwide BMW operate in 100 different countries with over 4.400 dealers which are authorized to sell both new and used cars, parts and after sales service products". (http://www.bmwgroup.com) The way in sales, direct selling approach taken by BMW. BMW is unique, personalized and technology-leading brands, BMW's customers are not locked is a popular automobile market, therefore, the BMW Group must adopt methods of detailed, personalized to transfer the information to customers in direct and effective way. Direct selling is the best way to meet this need, it strengthens the communication between BMW Group and customers, also establishes a long-term stable relation with customers. The company holds a view that they should communicate with customers about the situation of finance, sales, service, and spare parts. The BMW Group use costumers' praise to transmit the products' information and to set up the BMW's image, they also use customer information to establish a company's internal marketing information system. BMW also sales efforts focus on providing good services and ensuring supply of spare parts. For a new marketing area before not start the sales activities, they have set up a service organization to establish a reliable sales support channel.
Finally, promotion is also important. BMW's sales promotion strategy is not rushing to the improvement of sales for the purpose, but considering the sales promotion activity must achieve the following goals: to integrate successfully the BMW's brand positioning in the potential customers; To strengthen the emotional connection between customers and BMW; to perfect the combination of BMW products and services and to provide customers with detailed product information. In the end, through a variety of promotions that BMW can have the chance to direct contact with customers, communicate information, and establish a good brand image.
The BMW Group uses different advertisements and public activities for the promotion of its products. WCRS has been the advertising agency of BMW Group since 1979. The company invests a large amount of money for their cars in films e.g. the film "The World Is Not Enough". James Bond drove the new Z8 before the car was launched and in "Austin Powers Ⅲ-Goldmember" the MINI Cooper was used. These advertisement techniques have really helped BMW Group in their promotion of the cars. The BMW Group held International Golf Gold Cup and BMW Appreciation Parade in Asia. The purpose of this event is to promote the communication between BMW and their target market. Because golf has always been considered a gentleman's game, that people who like golf, especially amateurs, mostly have higher income and higher social status, and these people is BMW's target market. In addition, BMW has also held regular news reporter conference, discussing the BMW car features with customer representatives and experts on television and radio program and allowing potential customers test drive BMW cars, BMW These activities also strengthened communication with customers.
The reason of BMW's success is that they use the marketing mix efficiently and reasonably to reflect BMW's position. The position is high-end products, so its marketing mix strategy revolves around the selling point. Such as product quality, function, security and other aspects of the design are to meet the high-income, high social status of the consumer group needs. BMW's high price also reflects the high-end products. On the sales channels, BMW's target market is who has high income and high social position, of course, they like targeted and personalized sales channels, direct marketing is to be able to reflect this. And BMW's advertisements transmit product information effectively, and public relations activities are also targeted markets.
References
1. Philip, K and Kevin Lane, K. (2011). Marketing Management (13th edn.) Beijing: Tsinghua University Press. 2. Marketing strategy and Pricing strategy of BMW. http://www.ukseeays.comᄃ [Accessed 19 Aug. 2013] 3. The company profile of BMW.
http://innovationleaders.org/bmw_company_profile.htmlᄃ [Accessed 19 Aug. 2013] 4. TONG Na. (2011). Localized marketing strategy boosts BMW's China sales. China economic net. 5. WANG Jinggang (2009).《宝马公司营销策略分析与产品定位》. http://wenku.baidu.com/view/b70a1673a417866fb84a8e28.htmlᄃ [Accessed 19 Aug. 2013] 6. 《宝马4p组合》. http://wenku.baidu.com/view/170ce8e4524de518964b7dd8.html [Accessed 19 Aug. 2013] 7. http://www.wikipedia.com [Accessed 23 Aug. 2013]
8. http://www.bmwgroup.com [Accessed 19 Aug. 2013]