Why i want to be a CNA
Published:
22 February 2016
Remember! This is just a sample.
You can get your custom paper by one of our expert writers.
Get custom essay
74 writers online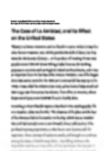 I don't understand, while being a CNA is hard, it is not rocket science. You basically have to work, and care. So many CNAs don't do either one. I don't know how they go home and sleep knowing that they left their residents soaked, cold, and dirty. Why don't they just go work at a gas station. Very few things make me as angry as when the residents are not getting the care they DESERVE. I want the opportunity every day to make an impact on people's lives in a positive and much needed way. We, future CNA's, get paid for more than simply washing people, making beds and all of the other tasks that go along with the job. We have chosen a profession that demands caring from us. We need to show patience and compassion daily, no matter what. People may think that becoming a CNA is a job just anyone can do. This is not true! It takes a certain type of person to do the work of a nursing assistant. I am proud to be a Future CNA! Yes, I may become "only a CNA" in the eyes of some people, but to others I will be much more.
I will be the one, in many residents lives, who will be providing them with their ADL's. What others take for granted, washing, dressing, bathing, eating– some residents are unable to perform these tasks for themselves anymore, and they will depend on me. I will go to great lengths to maintain their privacy and dignity while helping them to do things that only a few years ago they were doing on their own. I am the one they rage at, venting their frustration, anger, confusion and fear. I will perform excellent care, even though doing so will certainly put me in a position of being physically and verbally abused at times by the hands of those I care for. I'll be the one who hears "I want to go home" from the lips of residents sometimes several times a night, and comforts them.
I will make a difference offering hugs and smiles in a dark and lonely world, where many times, the staff becomes the only family a resident has. I will become their source of love, acceptance and friendship. I will be the one who tries to quell loneliness and depression in the residents I care for, sometimes I'll just act silly to coax a smile. I will let them know that someone still cares about them. I will be the one who listens when no one else listens, and listens as my residents repeat stories from their past over and over again, offer my words of amazement or encouragement over their accomplishments and memories. I want to be the one who validates them as a person, who ensures they know they still have great worth as a human being, even though their lives have changed, I always try to offer hope where it is needed.