Why International Business Is Important?
Remember! This is just a sample.
You can get your custom paper by one of our expert writers.
Get custom essay
97 writers online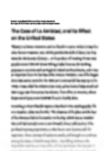 International Business Environment Assignment: Questions & Answers
Prepared for:
Dr. Abu Yousuf Md. Abdullah
Professor
Course: International Business Environment
Prepared by:
Asif Iqbal
Section: A Roll: 35
BBA 19th Batch
Institute of Business Administration, University of Dhaka
September 5, 2013
Why Is International Business Important?
International business is important as it gives businesses greater scope to sell the goods or services they produce. When a business is reliant on just the home market, it is really wide open to failure should this market decline. Selling internationally greatly decreases the chances of such failure as it is unusual for all markets to decline at the same time. As an example, UK manufacturers who sell into Europe have seen some markets drop due to the Eurozone crisis but have successfully increased sales to China and India where demand for British goods, particularly luxury goods has risen sharply. Why Is Import And Export Equally Important?
No matter how rich a country is, how small or big it is, no nation is self-sufficient. It will never be totally independent from the rest and have everything it needs. Every country, no matter how powerful it is, needs raw materials from other countries to produce products that it needs or that is needed by other countries. In short, every country is involved in import export transactions.
It is also now highly possible for small countries to go beyond the borders of their countries and reach out to a wider marketplace that can bring in products and supplies that they need. The businesses in these countries can benefit from having lower product costs and have a competitive edge over bigger countries. The demand for more imported products is growing exponentially and businesses are taking these import export opportunities seriously. There are new international markets open for both importers and exporters that have brought in a lot of opportunities for companies to lower production or buying costs and make higher profits. Why Is Technological Change Important?
The growing influence of the rapid technological change upon organizations has made concepts such as organizational learning, learning organization and fast–learning organization organizations, quite popular, in vogue. The link between both phenomena is undisputed. Technological change, in its simplest and most widespread notion, represents the introduction of new technologies in a company, a work system, organization and the upgrades of those that are current, but, is we consider it as a social process, therefore, with a historic vision, we will find out that it is actually the development of the production forces that causes changes in the technical bases of production, and these, in organization and culture, changing at the same time economy, social conscience and the subjective world of men; all of that resulting as a historic tendency, growth in labor productivity, at par with new civilization stated and its different cultural changes. Why Are Trade Barriers Imposed In Economy?
Trade barriers are imposed for various reasons and some of them: a) to promote the local market
b) restrictions due to government control on certain commodities c) to prevent dependence on import market
d) preference of government policies
GATT
The General Agreement on Tariffs and Trade (GATT) was a multilateral agreement regulating international trade. According to its preamble, its purpose was the "substantial reduction of tariffs and other trade barriers and the elimination of preferences, on a reciprocal and mutually advantageous basis." It was negotiated during the United Nations Conference on Trade and Employment and was the outcome of the failure of negotiating governments to create the International Trade Organization (ITO). GATT was signed in 1947 and lasted until 1994, when it was replaced by the World Trade Organization in 1995.The original GATT text (GATT 1948) is still in effect under the WTO framework, subject to the modifications of GATT 1994. WTO
There are a number of ways of looking at the World Trade Organization. It is an organization for trade opening. It is a forum for governments to negotiate trade agreements. It is a place for them to settle trade disputes. It operates a system of trade rules. Essentially, the WTO is a place where member governments try to sort out the trade problems they face with each other. The WTO was born out of negotiations, and everything the WTO does is the result of negotiations. The bulk of the WTO's current work comes from the 1986–94 negotiations called the Uruguay Round and earlier negotiations under the General Agreement on Tariffs and Trade (GATT). The WTO is currently the host to new negotiations, under the 'Doha Development Agenda' launched in 2001. Where countries have faced trade barriers and wanted them lowered, the negotiations have helped to open markets for trade. But the WTO is not just about opening markets, and in some circumstances its rules support maintaining trade barriers — for example, to protect consumers or prevent the spread of disease.