William Sonoma Case Study
Remember! This is just a sample.
You can get your custom paper by one of our expert writers.
Get custom essay
95 writers online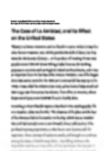 Williams-Sonoma's competitors use various strategies as a form of competition. This along makes it difficult for the giant retailer to stay on top of everything. Williams-Sonoma has key competitors like Crate & Barrel, Restoration Hardware, Pier 1 Imports and Bombay Company. Along with these big names, Williams-Sonoma must also compete with regional stores, online stores, local stores, specialty stores, department stores, and direct-ship manufacturers. Competition for the big name retailer is everywhere. Crate & Barrel is a company that focuses on designing store displays that represents the function of the product being sold. The pride themselves in the fact that their displays were difficult to copy. The items they sold came from small, out-of-the way manufacturers the made beautiful and affordable products. Crate & Barrel's strategy consisted of purchasing from a small group of factories in Europe initially. They would display their findings on the rugged crates and barrels they were shipped in.
There displays have evolved over time and they have also expanded their sourcing strategy to include products from various countries. The store has also expanded nationally from a single store to nearly 150 U.S. locations and a store in Toronto. The store continues to stick with what they know in regards to a common style: contemporary, innovative, and functional designs featured in the season's latest colors. Restoration Hardware sold products that were specifically designated to appeal to the wealthiest 10% of the nation. They sold high-dollar, vintage-style furniture and home furnishing to match the same style. Their main growth came from making their items available through direct-to-customer sales. Restoration Hardware fell behind in 2001 because they had a difficult time managing their growth. They have since then relaunched themselves in 2010 with a reinvented, remodeled, reborn concept through new direct mail piece and a redesigned website. Pier 1 Imports is known for offering a wide variety of furniture and decorative home furnishings and other home goods.
Their strategy for competition has focused on expanding the brand on an international level and licensing the name to Sears's stores in countries like Mexico and Puerto Rico. Bombay Company retail stores and catalogs focused on selling classic traditional furniture and accessories. The inventory included ready-to-assemble furniture pieces for the entire home. Along with expanding their retail stores nationally and throughout Canada, this retail giant opened over 46 outlet stores. The outlet locations would be an opportunity to increase sales by reaching a different customer base and being able to sale items at a reduced rate getting rid of out-of-season merchandise. Out of all of the strategies used, I believe Pier 1 Imports strategy to license their name was the most effective.
With licensing their name in other countries they don't have to take on the risk of marketing to a new customer base, Sears is doing that for them and still selling their products and generating revenue. This helps to build the company's name in the licensed countries and the company can later decide if opening a retail store would be wise based on the sales.
References
Wheelen, T. L., & Hunger, J. D. (2010). Concepts in strategic management and business policy (12th ed.). Upper Saddle River, NJ: Pearson Prentice Hall.
N.R. (2010). Retail Online Integration: Restoration Hardware Reinvents Itself With a New Merchandising Strategy. Retrieved from http://www.retailonlineintegration.com/aggregatedcontent/restoration-hardware-reinvents-itself-with-new-merchandising-strategy#
Khicha, P., (2007). Brand Channel: Crate and Barrel Form and Function. Retrieved from http://www.brandchannel.com/features_webwatch.asp?ww_id=333
Wheelen, T.L., & Hunger, J.D. (2010). PDF: Web Case 6. Williams-Sonoma. Retrieved from http://www.pearsonhighered.com/wheelen/cases.html.