Windows NT
Published:
26 February 2016
Remember! This is just a sample.
You can get your custom paper by one of our expert writers.
Get custom essay
90 writers online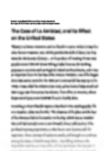 Based on the premise that Richman has 5,000 employees throughout the main office and several branch offices, you must research solutions and detail the appropriate access controls including policies, standards, and procedures that define who users are, what they can do, which resources they can access, and which operations they can perform on a system. Issue two. Based on the premise that most of the managers have BlackBerry devices for instant communications and all employees are provided cell phones, you must research and detail the cryptography methods to protect organizational information using techniques that ensure its integrity, confidentiality, authenticity, and non-repudiation, and the recovery of encrypted information in its original form. Issue three. Based on the premise that there is a mix of computer running Windows 2000, Windows XP, Windows Vista, Windows 7, and Mac OS X, you must research and devise a plan to thwart malicious code and activity by implementing countermeasures and prevention techniques for dealing with viruses, worms, logic bombs, Trojan horses, and other related forms of intentionally created deviant code. Issue four. You must research and formulate a plan to implement monitoring and analysis based on the premise that all employees have Internet access to browse the Web, there is no policy on the use of removable media, and several of the branch offices have encountered issues with malware recently. You must determine system implementation and access in accordance with defined IT criteria as well as how to collect information for identification of and response to security breaches or events. Issue five. Because Richman hosts an internet for employees to access information about the company and enroll in company benefits programs, and because Richman also hosts an extranet for its business partners, you must research and devise a method to secured networks and communications. This should include the network structure, transmission methods and techniques, transport formats, and security measures used to operate both private and public communication networks. Issue six. Based on the premise that the Phoenix office contains two proxy servers configured as an array which provide Web cache services and internet access control for Richman, and that the majority of applications are Web-based and hosted from Phoenix office, you must assess risk, response, and recovery. Conduct a review of the implementation processes essential to the identification, measurement, and control of loss associate with uncertain events. Issue
seven. The corporate security policy is out of date and each branch office differs, so you must research and define security operations and administration including the identification of information assets and documentation of policies, standards, procedures, and guidelines that ensure confidentiality, integrity, and availability. Solution 1: With Windows Server 2008 Applications, you can make OU's, Groups and User's, and you can set GPO's for the OU's, Groups and / or Users requirements or restrictions. Below are some reasons for upgrading to Windows Server 2008 R2 with service Pack 1(SP1). As we go through each one of the issues stated above we address the concerns and exploit Windows Server 2008. With the new technology of today and the improvements with Windows Server 2008, not only is Windows Server 2008 an OSI, but much more than that. So let us take a look at some of the good reasons for upgrading. Windows Server provides new virtualization technology that enables you to deliver more advanced capabilities to your business for increased IT efficiency and agility. Whether you want to consolidate servers, build a private cloud or offer Virtual Desktop Infrastructure, the addition of these powerful virtualization features enables you to take your datacenter and desktop virtualization strategy to a new level. Windows Server is the newest Windows Server operating system from Microsoft. Designed to help organizations reduce operating costs and increase efficiencies and agility, Windows Server expands the Microsoft virtualization strategy for both server and desktop workloads by adding dynamic memory management for virtualized workloads with Dynamic Memory and Microsoft RemoteFX for a rich end user experience with a Virtual Desktop Infrastructure (VDI) and session virtualization (formerly known as Terminal Services). Windows Server also provides enhanced management control over resources across the enterprise. It is designed to provide better energy efficiency and performance by reducing power consumption and lowering overhead costs. It also helps provide improved branch office capabilities, exciting new remote access experiences and streamlined server management. Overview of Top 10 Reasons to Upgrade:
Powerful Hardware and Scaling Feature; PHSF Reduced Power Consumption; RPC Hyper-V in Windows Server 2008 R2 with SP1; HV Expand Desktop Deployment Options with VDI; EDDO with VDI Easier and More Efficient Server Management;
EMESM Managing Data Not just Managing Storage; MDNMS Ubiquitous Remote Access; URA Improved Branch Office Performance and Management; IBOPM Simplified Management for SMBs; SMSMBs The Strongest web and Application Server to Date; SWA Top IT Pro Tasks Made Easier by Windows Server 2008 R2 with SP1 Do more with less. This has been the server manager's mantra for several years but never more than now. Fortunately, Windows Server 2008 R2 with SP1 has got your back with numerous and varied features designed specifically to address IT's current challenges while making day-to-day life a little easier. Overview the 10 Top IT Pro Tasks Made Easier
Migrating VMs without Service Interruption; MVMsW/oSIn Branch File Access performance Up; BFAP Self-adjusting server and Data Center Power Management; SSDCPM Remote Server Management; RSM Squeeze the Most from your Hardware; SMYH Do Better At Managing Virtual Data Centers; DBMVDC Create Customized and Automated Management Tools; CCAMT Use Virtualization to Ease Desktop Management; UVEDM Broaden Remote Access Adoption while Making it Easier to Mange; BRAAWEM Take Your Web and Application Serving to the Next Level; TASNL Top reasons to upgrade to Remote Desktop Services in SP1
Windows Server 2008 R2 Service Pack 1 builds on the award-winning foundation of Windows Server 2008, expanding existing technology and adding new features to enable IT professionals to increase the reliability and flexibility of their server infrastructures. New virtualization capabilities with Dynamic Memory and Microsoft RemoteFX, Web resources, management enhancements, and exciting Windows 7 integration help save time, reduce costs, and provide a platform for a dynamic and efficiently managed data center. Overview the Top 5 reasons to upgrade to Remote Desktop Services Extension to VDI; EVDI Improved user experience; IUE Providing simplified publishing and access to Remote Desktops and Applications; RDA Improved configuration, management, security and control; ICMSC Providing a better platform for partner innovation; PPI Improved virtual desktop density; IVDD Solution 2: With Windows Server 2008 R2 SP1 Upgrade: Allows the (CEO) usage of BlackBerry devices and all employees with cell phones can email and if need have encryption capabilities. On Windows Server 2008 have application for encryption option and you can apply them to emails and / or ports for
security purposes. This allows emails and voice over secured IP addresses. Nor for you to use your BlackBerry you must be running Version 5.0 (BlackBerry Enterprise Server Express for Microsoft Exchange) or higher on Windows Server. Solution 3: Using Windows Server 2008 is compatible with all OSI systems to include Mac OSI. To use Mac OSI you must down load a patch from Windows Small Business Server. With a couple clicks of the mouse you get to keep your Mac X machines. Every one of the 5000 computers in the company can run off Windows Server 2008. By setting up groups and users accounts and separating the domains into different trees for manageable security and controls. Webroot: Web Security Service; Scope of Protection: Webroot AntiVirus with Spy Sweeper is a very comprehensive desktop antivirus package. The software protects from threats from several sources, and the several layers of protection keep your computer safe. Webroot protects PCs from viruses in all forms, as well as worms, Trojans, malware, and rootkits. Webroot monitors and detects all sorts of malicious files and just plain unwanted programs like adware, dialers, cookies, and keyloggers. The integrated Spy Sweeper is amazing standalone anti-spyware software that in itself protects from a variety of computer threats. Solution 4: Use the GPO's to control the usage or prevent users from using USB removable disks (USB flash drives). Using Event Viewer to help maintain control over the Server / workstation connected to the server. As a variation to Disable USB Disks, you can prevent users from using any portable USB removable disk or flash drive by using a custom .ADM file that can be imported into the Local Group Policy (thus effecting only the local computer) or by using Active Directory-based Group Policy Objects (also known as GPOs). Follow the steps outlined in the Adding New Administrative Templates to a GPO article on general instructions on how to add or remove an .ADM file from the Administrative Templates section in GPO. Note: This tip will allow you to block usage of USB removable disks, but will continue to allow usage of USB mice, keyboards or any other USB-based device that is NOT a portable disk. After you downloaded the ADM file (pdf) and installed it read the instruction and download the other two links and follow the instruction and this will enable you to disengage USB or CD/DVD and still keep mouse and keyboard still working. Event Viewer and Resulting Internet Communication in Windows Server 2008 Benefits and Purposes of Event Viewer. Administrators
can use Event Viewer to view and manage event logs. Event logs contain information about hardware and software problems and about security events on your computer. A computer running Windows Server 2008 records events in at least three kinds of logs: application, system, and security. A computer running Windows Server 2008 which is configured as a domain controller records events in two additional logs, the Directory Service log and the File Replication Service log. A computer running Windows Server 2008 which is configured as a Domain Name System (DNS) server records events related to DNS in an additional log. Solution 5: With the network structure, transmission methods and techniques, transport formats, and security measures used to operate both private and public communication networks. Separate domains for (private, wireless, and public) add encryption for extra security where it is needed. Now all this comes with Windows Server 2008 already. Activate all GPO's and firewalls on the Server to help control the security. Block (close) all ports not needed on server, computer, and routers. Cisco SA 500 Series Security Appliances: These all-in-one security solutions are designed for businesses with fewer than 100 employees. They combine firewall, VPN, and optional intrusion prevention system (IPS), email, and web security capabilities. Whether in the office or working remotely, your employees can securely access the resources they need, while your business is protected from unauthorized access and Internet threats. So we need to set them up in each OU / Groups to help with security. The new RemoteApp & Desktop Connections provides a set of resources, such as RemoteApp programs and Remote Desktops. These connections are presented to Windows 7 users using the new RemoteApp & Desktop Connection control panel. The new RemoteApp & Desktop Web Access provides the ability to connect to resources from Vista & XP in addition to Windows 7. Solution 6: Use Off-site storage (back-up) will enhance the data safety. With Rack Space Hosting (http://www.rackspace.com/hosting_solutions/), they use secure encryption for backing-up systems. They also take the Cloud, private and public accounts. Collective the company can set up backup site storage for the server as well as the workstations. The company needs to set up a life-cycle (time) for the back-up scheduling time cycle. Solution 7: The corporate security policy is out of date and each branch office differs, so you must research and define security operations and administration including the
identification of information assets and documentation of policies, standards, procedures, and guidelines that ensure confidentiality, integrity, and availability. Business Continuity Plan: Richman needs to set down and revive the Richman's Business Continuity Plan and set up some training for the employees. Because with all the new security features that Windows 2008 has, and firewall set up do not do any good if the Users are not complying with the new security standards. Example: A User uses a flash drive and uploads pictures or songs (harmless enough), but did not scan it for virus. The song had a hidden execution file on it (virus) and now that system now has a virus on it. This could have been prevented by scanning the flash drive first.
BES – BlackBerry Enterprise Server – US. (n.d.). Retrieved March 1, 2014, from http://us.blackberry.com/business/software/bes/overview.html Microsoft Windows Server 2008 R2 Features. (n.d.). Retrieved March 1, 2014, from http://www.microsoft.com/middleeast/server-cloud/2008-r2-features.aspx SolutionBase: Connect your Macs to Windows Small Business Server – TechRepublic. (n.d.). Retrieved March 1, 2014, from http://www.techrepublic.com/article/solutionbase-connect-your-macs-to-windows-small-business-server/