Women empowerment
Published:
26 February 2016
Remember! This is just a sample.
You can get your custom paper by one of our expert writers.
Get custom essay
102 writers online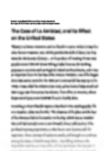 Today we have noticed different Acts and Schemes of the central government as well as state government to empower the women of India. But in India women are discriminated and marginalized at every level of the society whether it is social participation, political participation, economic participation, access to education, and also reproductive healthcare. Women are found to be economically very poor all over the India. A few women are engaged in services and other activities. So, they need economic power to stand on their own legs on per with men. Other hand, it has been observed that women are found to be less literate than men. According to 2001 census, rate of literacy among men in India is found to be 76% whereas it is only 54% among women. Thus, increasing education among women is of very important in empowering them. It has also noticed that some of women are too weak to work. They consume less food but work more.
Therefore, from the health point of view, women folk who are to be weaker are to be made stronger. Another problems is that workplace harassment of women. There are so many cases of rape, kidnapping of girl, dowry harassment, and so on. For these reasons, they require empowerment of all kinds in order to protect themselves and to secure their dignity Women safety is a primary concern. As we know women are victimized in all walks of life – Discrimination as girls, Abuse As Adolescents, Harassment and Molestation at Work & Public Places, Domestic Abuse at Home and more
In this contemporary world, women need to gain the same amount of power that men have. Now, it is time to forget that men are the only holders of power. In India, women are still facing different obstacles in male-dominated cultures. The things are related to women's status and their future. I believe that Indian women are slowly getting empowerment in the sectors like education, politics, the work force and even more power within their own households. The worth of civilization can be arbitrated by the place given to women in the society. we have come across a more image of gender differences. Each year, we notice that the headline as "Girls outshine boys" in CBSE, ICSE and State Board results as well. It arrests us showing that girls are now more confident of getting better-paid professional jobs than their drooping male counterparts. This achievement of girls is an absolute reversal of what would have been expected a generation ago. This is likely to guide to higher-income jobs.
When a woman can plan her family, she can plan the rest of her life. When she is healthy, she can be more productive. And when her reproductive rights — including the right to decide the number, timing and spacing of her children, and to make decisions regarding reproduction free of discrimination, coercion and violence — are promoted and protected, she has freedom to participate more fully and equally in society. Gender equality implies a society in which women and men enjoy the same opportunities, outcomes, rights and duties in all spheres of life But, an upsetting place still remains for Indian women is the negative sexual attention that women often receive. Indian societies have received notoriety (ill fame) for being unsafe for women. Nearly 10 million baby girls have been killed in the last twenty years alone. Clearly, safety is an obsolete word in today's India. It is the duty of law enforcement agencies to prevent crimes against women but they fail to solve this scourge alone. People must come forward to help in rooting out such social evils. Law enforcing agencies cannot work alone.
When the people are dynamic in their drive against crimes, the police cannot remain a mute spectator though they are supposed to be the protectors of citizens. Youth should be motivated to be socially responsible and protect women. This is the need of the hour. Everyone must think of changing society. If we all stay by the rules, women in our cities will assuredly be safer. I do think that women should also be in place of man in today's society. As they are now highly qualified, make remarkable contributions to the economy through their paid work. These days, women have established themselves that they are equal to men. They are working in different fields with man by doing hard work. Empowering Women through Education: "Education is one of the most important means of empowering women with the knowledge, skills and self-confidence necessary to participate fully in the development process